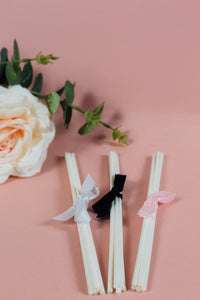 About Replacement Reed Diffuser Sticks
Sometimes its nice to have a freshen up at home, maybe you have bought a reed diffuser refill and you would like to change the scent? Or maybe you want to pour a little of your existing reed diffuser into another container.  Whatever your reason, its nice to have the option! 
Contains 5 fresh replacement white fibre reed sticks wrapped together with a satin ribbon.