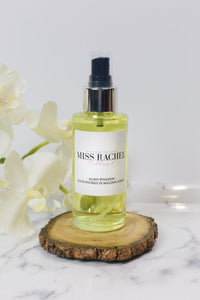 About this Fragrance
This feminine and truly romantic fragrance has top notes of sweet pear & blackberry, the heart is in full bloom with floral notes of Iris, orange blossom and jasmine. The base sits seamlessly on a bed of patchouli.
About this Luxury Room Spray
Our room sprays are made from the very best ingredients, brought together to bring you a quality product with a long lasting and beautiful scent. Each bottle is 100 ml of your chosen home fragrance. 
Safety Notice and Warning 
DIRECTIONS Do not spray directly onto furnishings, any naked flames or heat sources. DANGER EXTREMELY FLAMMABLE LIQUID AND VAPOUR. May cause an allergic skin reaction. Harmful to aquatic life with long lasting effects. Keep away from heat, sparks, naked flames, hot surfaces, no smoking.  Keep out of reach of children and pets. Wear protective gloves.  IF ON SKIN wash with plenty of soap and water, If skin irritation or rash occurs, seek medical advice/attention. IF IN EYES rinse continuously with water. If medical attention is needed, have product bottle or label with you to hand. Dispose of contents to an approved disposal site, in accordance with local regulations. AVOID release to the environment. Always read the label fully prior to using this product.