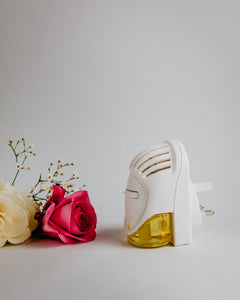 About this Fragrance 
A sumptuous and dramatic fragrance with a mix of black truffle, Ylang Ylang and fresh Bergamot with a small burst of blackcurrant, the heart is full with orchid, and oriental notes of lotus wood. This sits on a warm and intense base of vetiver, patchouli, sandalwood, incense, amber, Chocolate and Vanille.
About this Luxury Plug-In
Our plug-ins last for up to 60 days, delivering you long lasting beautiful home fragrance.  Each product consists of 1 plug-in unit, and 1 bottle of home fragrance designed uniquely for this vaporising medium.   
Plug-in Safety 
Always switch off at the socket before removing or inserting the fragrance into the plug-in unit. Always keep the plug-in unit in an upright position.  Do not use in small confined pet areas without adequate ventilation.  Do not place near a source of heat or direct sunlight.  Do not place on polished, painted or plastic surfaces. Keep away from children and pets. People suffering from perfume sensitivity should be cautious when using this product. Always read the label and instructions enclosed fully before using this product.