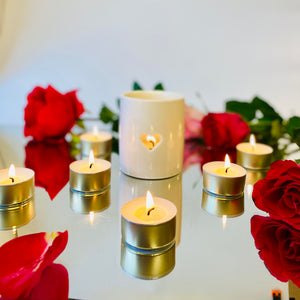 About this Heart Tea Light Holder & Scented Tea Lights Gift Set
Our Heart  tea light holder can be stored away and reused again and again for years to come.  This tea light gift set is complete with 6 romantic fragranced tea lights.  Gift boxed in a white box and complete with silk ribbon. 


Tea light fragrances; White Rose & Pink Pepper, Coco Sandalwood, Poppy & Barley, Romance, Love Story, Rose Prick 
Fragrance Descriptions:
Coco Sandalwood - Coconut, cinnamon, musk, vanilla and sandalwood
Romance - Rose, lemon, freesia, lily, oakmoss and white musk
Rose Prick - Rose, pepper, patchouli and tonka
White Rose & Pink Pepper - Rose, pink pepper, geranium, cedar, tonka and vanilla
Love Story - Neroli, orange blossom, jasmine and cedarwood
Poppy & Barley - Rich and fruity poppy & barley with added top notes of blackcurrant
Candle Safety Warning
Do not leave candle burning unattended. Do not burn candle for longer than 4 hours at a time.  Allow candle wax to solidify before relighting, should any black smoke appear, trim the wick prior to the next use, it should be clean and no longer than 6 mm at all times, this will prolong the life of the soy candle and ensure it does not burn too quickly.  When you are trimming the candle wick make sure you do not leave the trimmings in the candle wax, as this will encourage unhealthy soot to be produced. Do not burn on or near to anything that could catch fire. Always protect the surface on which the candle rests. To protect your candle holder, do not burn wax right down to the bottom. If lighting more than one candle, allow enough space between the candles with a recommended minimum distance of 15 cm. Keep out of reach of children and pets. WARNING may cause and allergic skin reaction.  Harmful to aquatic life with long lasting effects. If skin irritation or rash occurs, seek medical advise/attention.  Dispose of contents/container to an approved disposal site in accordance with local regulations. Always fully read the label and instructions contained with your Soy Wax candle before using this product.